MSH169-Computer Speakers Review
July 15, 2017 by Mixcder
The good
For their price and sizes, the Mixcder MSH169 speakers play impressively loud and sound nice, and could handily replace the built-in speakers of your TV sets and laptops. Light, small, and easy to drive, they also offer amazing portability.

The bad
From a brand famous for making wireless speakers, the Mixcder MSH169 don't support wireless use.

The bottom line
If you want to spend no more than $30 on a nice external audio system for your laptop or desktop PC, the Mixcder MSH169 speakers could be one of the best choices in this price range.

Mixcder is known for making affordable audio systems such as headphones and speakers, and has released a variety of high-profile products, including the Mixcder Basso Wireless IEMs, which we reviewed last year, and the ShareMe Over the Ear Headphones, which allow users to share the same audio output simultaneously on two units of headphones.

Mixcder MSH169 computer speakers are a new addition to Mixcder's product line. Priced at only $27.99, they are promoted with a promise to offer users full rich stereo sound with heavy bass. But is that really the case? You will find out in this review.


Mixcder MSH169 speakers' main specs
Speaker diameter: Φ52mm
Frequency response: 180Hz – 20KHz
Rated power: 3W*2
Impedance: 4Ω
S.P.L: 92dB±3dB


Packaging
The speakers comes with very simple packaging, inside the box you will only find the speakers, with unremovable coming out them, as well as a multi-language user manual as well as a card suggesting you to participate in the brand's super user program, from which I get my pair of MSH169 speakers.


Design and build
When it comes to the design of the Mixcder MSH169 speakers, there isn't really much to talk about. The speaker measures 7.7 inches tall, 6.4 inches deep and 5.6 inches wide. Being significantly smaller, they still look very much like traditional speakers. There is nothing you haven't seen before: cabinets covered with grey varnish finish, black cloth grille to protect the drivers, and metallic rims around the front and around the subwoofers on the left and right side.
From a brand mainly known for its wireless headphones, the Mixcder MSH169 speakers don't support wireless use. The left and right speakers are connected with a relatively thin cord of 50cm in length, and there is also a cord coming from the right speaker which splits into two plugs: a USB 2.0 plug to connect with the power supply and a 3.5mm plug to connect with audio sources.
There is also a scroll volume rocker on the back of the right speaker, allowing you to control the volume of the sound coming out of these speakers.
Limited by the length of the cord connecting the two speakers, they can't be placed too far away from each other. But I have no problem putting them on the two sides of my Surface Pro 3 or my laptop.
The build quality of those speakers is pretty nice, definitely above the average of speakers in this price range.
Setting up
Those speakers are very easy to set up, plugging in an audio input source, be it your smartphone, tablet, audio player or computer, and insert the USB 2.0 plug into a wall charger or a USB port on your PC or TV set, and you are good to go.
Performance

For a pair of USB 2.0 powered speakers, the Mixcder MSH169 offer pretty impressive sound, with plenty of bass and details. They can also produce enough volume to fill up a bedroom or even a small living room. Even when the volume is cranked to the highest, strain and distortion were still not present, and you only need 60%-80% of volume to fill up your bedroom with sound most of the time. Those speakers are all about the low end, as the mids and highs can sound really dry and uninvolving. Still, for non-audiophile listeners, the sound quality is acceptable for movies, podcasts and even music.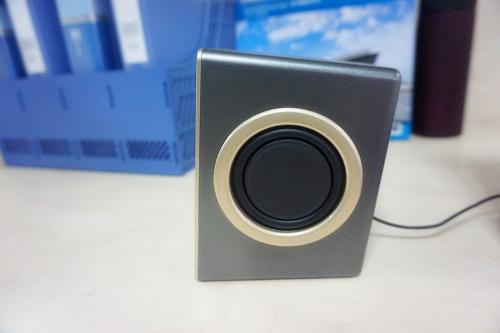 At this price point, you can't expect them to compete with portable speakers from more established brands such as Bose, JBL and Bang & Olufsen in terms of sound quality, but they can handily beat the built-in speakers of your phone, tablet, PC or average TV sets. I now use them with the mini PC in my living room, and they greatly enhance my audio experiences while watching TV shows and movies.
Conclusion
The Mixcder MSH169 speakers did everything we expected them to do. They are definitely not designed for audiophiles and absolutely not going to replace those high-end audio systems for music and movies, but I am sure you would prefer the sound coming out of them to the sound from the built-in speakers of your laptop or TV.

Article Source: Mixcder MSH169 Computer Speakers Review